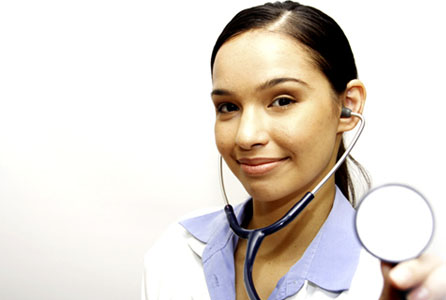 Online Nursing Diagnosis
Despite the fact that doctors are typically the ones that come to a diagnosis, nurses are also capable of their own diagnosis and some practitioners of medicine believe in allowing the nurses to play a more active role in assisting in the diagnosis of their patients. The Clinical Care Classification System (CCC) describes Nursing Diagnoses as "clinical judgments about family, the individual, or community reactions to current or underlying health risks based on living conditions or predisposed health conditions." As nurses are often around patients of varying levels of sickness or health, they are the frontline in diagnosis sometimes when a patient begins exhibiting new symptoms or begins failing in health. Monitors and machines are no match for a quality staff of nurses and Certified Nurse's Assistants (CNA's).
Getting Diagnosed by a Nurse Online
There are sites that allow you to log on and have qualified nurses respond to your questions regarding your basic symptoms. From a quick interview, nurses will be able to recommend that you get care through either physicians or specialists based on the symptoms that you listed. They'll also be able to suggest a few ideas of what could be wrong, though they're not licensed to make "official diagnoses". For that, consult your local physician or free clinic. Nurses can identify some of the following for you:
Predisposition to existing health detriments based on family health histry


Reasonable deductions regarding simple illness, (runny nose and fever means it could be a cold or the flu).


Recommendation to a doctor in your area – usually if you exhibit any symptoms at all, nurses will recommend that you see a doctor for a physical check-up.


Prognosis of likely illnesses – nurses can discuss what the outcomes of diseases that your illness may be with you. They cannot verify with certainty whether you actually have any of the illnesses that they suspect.
Nursing Diagnoses – Common Sense Applications
If you're suffering from terrible pains and symptoms, you wouldn't waste the time to search online about the possible ailments – you'd rush over to the ER! Nursing diagnoses aren't meant to be applied for circumstance of emergency. If you're suffering from a dull ache, faintness, fasciculation or any other cerebral symptoms, you may find them mildly irritating but they could be indicators that something much larger and worse could be brewing within you. Terminal illnesses like Parkinson's could be the root of spasms and loss of motor function. Get checked immediately if the nurse you speak with online suspects you're suffering from a life-threatening condition.
Treatment Begins With Medication
For most circumstances that aren't severe, medication is prescribed that will alleviate your condition. Nurses don't have the license required by Federal law to prescribe controlled substances though their knowledge of the medical field can go a long way. For instance, if you're suffering from side pains, a nurse may be able to recommend a holistic medley of supplements that will help your body strengthen. Nurses are knowledgeable and ready to help diagnose your conditions!